Zion National Park Weather Information
Zion National Park Weather Information
From May to October, temperatures range from 70° to 105° F in the day and from 45° to 75° F at night. Brief afternoon thunderstorms are common in July and August. Winters are mild in Zion Canyon with temperatures often reaching above 40° F. Little snow falls in Zion Canyon, but snow accumulates on the plateaus. Spring and fall are ideal times to visit the park. During these seasons temperatures range from 45° at night to 80° F in the day.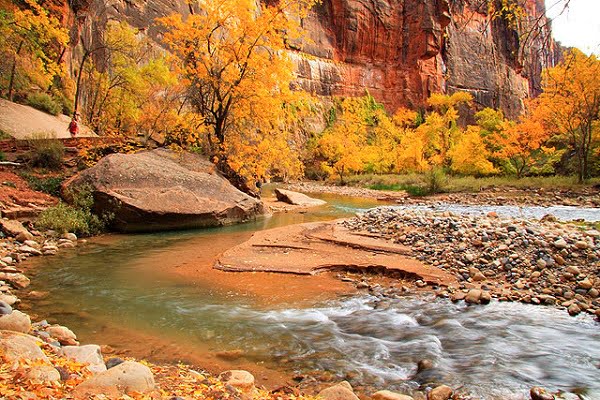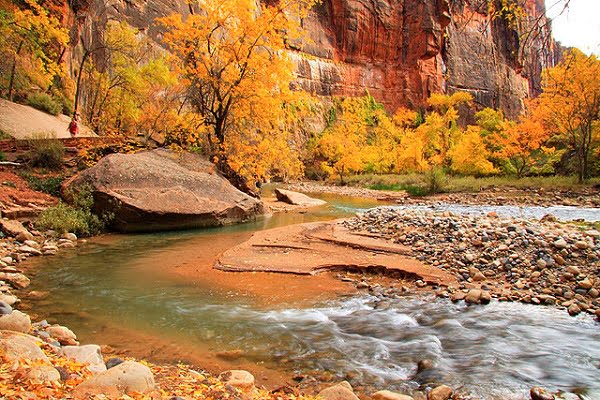 Spring weather is very unpredictable. Stormy wet days are common, but warm, sunny weather may occur as well. Precipitation peaks in Mar. Spring wildflowers bloom from Apr through Jun, peaking in May.
Sharp changes in weather occur within the park due to the rugged topography and range of elevations. Seasonal snowfall averages 13 feet but much heavier snows accumulate in high mountain areas. Summer days are hot, but mountain breezes keep evenings cool especially in lower elevation areas.
Visitors should be prepared for a wide range of weather conditions. Temperatures vary with changes in elevation, and day/night temperatures may differ by over 30° F.
Fall days are usually clear and mild; nights are often cool. Autumn color displays begin in September in the high country (Cedar Breaks, Lava Point). Colors in Zion Canyon usually peak in late October.
Winters in Zion Canyon are fairly mild. Winter storms often bring rain or light snow to Zion Canyon, but heavier snow to the higher elevations. Clear days may become quite warm reaching 60° F or higher; nights are often in the mid 20's and 30's. Winter storms often last several days and cause roads to be icy. Zion roads are plowed, except Kolob Terrace road (to Lava Point), which closes in winter. Travelers should be prepared for winter driving conditions from Nov through Mar.
Spring
Spring weather is very unpredictable. Stormy wet days are common, but warm, sunny weather may occur as well. Precipitation peaks in Mar. Spring wildflowers bloom from Apr through Jun, peaking in May.
Winter
Winter Driving
The Zion Mt Carmel highway and Zion Canyon Scenic Drive are open in winter, but travelers should be prepared for hazardous driving conditions during and immediately following storms. The Kolob Canyons Road (off I-15 south of Cedar City) is plowed but may be temporally closed during storms or snow plowing. The Kolob Terrace (to Lava Point and Kolob Reservoir) is generally closed by snow about 20 miles north of Virgin, Utah.
Winter Hiking
Frozen waterfalls, sparkling ice crystals and white frosting on rusty peaks are some of the treasures awaiting hardy winter hikers. However, conditions change rapidly and constantly; hikers should be flexible and plan to turn back if trail conditions are unsafe or falling ice is a hazard.
The Zion Canyon trails usually have patchy snow, ice, or mud from winter through spring. Portions of Emerald Pools, Weeping Rock and the Riverside Walk are hazardous when icy and may be closed to hikers. The Sand Bench and Watchman Trails are usually snow free during the winter, but are often muddy in spots. Longer trails such as Observation Point, Hidden Canyon and Angle's Landing are often hazardous due to ice.
Canyon hikes such as the Narrows are not recommended in winter and early spring due to cold water, high runoff and snow/mud covered access roads.
High country trails including West Rim, Wildcat Canyon and East Rim are covered with up to three feet of snow in winter and are muddy and or icy in the spring.
Kolob Canyon trails are often quite snowy. Snow depths can vary from one to several feet of snow, requiring snowshoes for easier travel. Avalanches often pour down the steep canyon walls during and shortly after snowstorms. Falling ice and snow when rising temperatures cause melting, are also hazards back country hikers and skiers may encounter.
The lower desert trails, including Chinle Trail and Coalpits and Huber Washes are good for winter hiking during dry weather. This is the most accessible area for winter hiking and backpacking.
Cross-country skiing, snowshoeing and snowmobiling opportunities exist in the higher elevations of Zion and nearby Cedar Breaks National Monument. For more information check at the Visitor Centers.
Zion National Park Weather Stats
| | | | | | | | | | | | | | |
| --- | --- | --- | --- | --- | --- | --- | --- | --- | --- | --- | --- | --- | --- |
| | Jan | Feb | Mar | Apr | May | Jun | Jul | Aug | Sep | Oct | Nov | Dec | Annual |
| Average High – °F | 52.0 | 57.0 | 63.0 | 73.0 | 83.0 | 93.0 | 100.0 | 97.0 | 91.0 | 78.0 | 63.0 | 53.0 | 75.3 |
| Average Low – °F | 29.0 | 31.0 | 36.0 | 43.0 | 52.0 | 60.0 | 68.0 | 66.0 | 60.0 | 49.0 | 37.0 | 30.0 | 46.8 |
| Extreme High – °F | 71.0 | 78.0 | 86.0 | 94.0 | 102.0 | 114.0 | 115.0 | 111.0 | 110.0 | 97.0 | 83.0 | 71.0 | 94.3 |
| Extreme Low – °F | -2.0 | 4.0 | 12.0 | 23.0 | 22.0 | 40.0 | 51.0 | 50.0 | 33.0 | 23.0 | 13.0 | 6.0 | 22.9 |
| Days Above 90°F | 0 | 0 | 0 | 1 | 8 | 21 | 30 | 28 | 18 | 3 | 0 | 0 | 109 |
| Days Below 32°F | 19 | 14 | 10 | 3 | 0 | 0 | 0 | 0 | 0 | 1 | 9 | 18 | 74 |

Zion National Park Precipitation
| | | | | | | | | | | | | | |
| --- | --- | --- | --- | --- | --- | --- | --- | --- | --- | --- | --- | --- | --- |
| | Jan | Feb | Mar | Apr | May | Jun | Jul | Aug | Sep | Oct | Nov | Dec | Annual |
| Normal | 1.6 | 1.6 | 1.7 | 1.3 | 0.7 | 0.6 | 0.8 | 1.6 | 0.8 | 1.0 | 1.2 | 1.5 | 14.2 |
| Max | 7.5 | 6.7 | 7.1 | 4.4 | 3.0 | 4.0 | 3.6 | 4.8 | 6.7 | 3.3 | 3.2 | 4.3 | 58.6 |
| Max 24 Hour Precip | 1.6 | 1.3 | 0.9 | 1.2 | 1.8 | 2.2 | 1.1 | 1.6 | 1.4 | 1.3 | 1.3 | 2.0 | 15.9 |
| Max Snowfall | 26.0 | 18.0 | 14.0 | 3.0 | Trace | 0.0 | 0.0 | 0.0 | Trace | 1.0 | 5.0 | 21.0 | 88.0 |
| Days with Measurable Precip | 7 | 7 | 8 | 6 | 5 | 3 | 5 | 6 | 4 | 4 | 5 | 6 | 66 |
| Average Thunderstorms | 0 | 0 | 0 | 1 | 4 | 5 | 14 | 15 | 5 | 2 | 0 | 0 | 48 |