National Parks in California
National Parks in California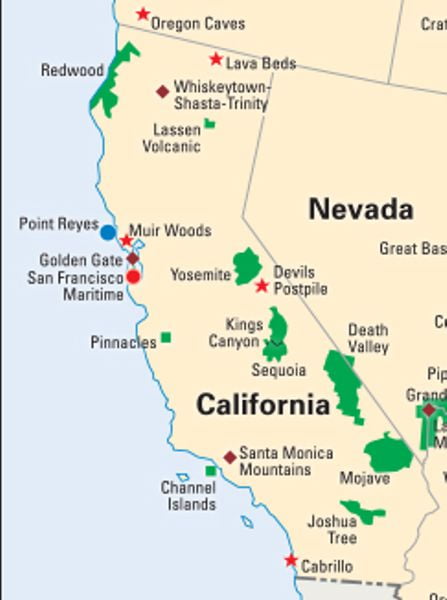 1.Channel Islands National Park
The islands within the park extend along the southern California coast from Point Conception near Santa Barbara to just north of Los Angeles. Park headquarters and visitor center are located in the city of Ventura.
The Channel Islands, an island chain lying just off California's southern coast, appear quite close on clear days. Five of the eight islands and their surrounding one nautical mile of ocean, with its kelp forests. comprise Channel Islands National Park.
Climate is mild, with little variation in temperature year round. However, be prepared for high winds, fog, and sea spray at any time. Visitors to the islands should dress in layers, with short and long pants, windbreaker, hat, sun screen, and waterproof outer clothing. Wear sturdy hiking shoes with non-slip soles.
2.Death Valley National Park
Death Valley National Park is located in southeastern California and also parts of it are in southwestern Nevada. It is between the Amargosa Desert in Nevada and the Inyo National Forest in California. The park is transected from east to west by California Highway 190 .
Death Valley is generally sunny, dry, and clear throughout the year. The winters are mild with occasional winter storms, but summers are extremely hot and dry. Summer temperatures commonly run above 120 degrees fahrenheit. Comfortable sports wear providing sun protection and sturdy walking shoes are recommended in summer. Winter requires warmer clothing and light to medium jackets.
3.Joshua Tree National Park
Joshua Tree National Park is about 140 miles east of Los Angeles, near the resort and retirement region around Palm Springs. It is situated at the eastern end of Southern California's Transverse mountain ranges. The eastern side of the park is bounded by the low lying Colorado Desert and the western side of the park is Mojave desert country.
Spring and Fall – Temperatures are most comfortable in the spring and fall, with an average of 85 F and low of 50 F.
Summer – Summers are hot, over–sometimes well over–100 F during the day and not cooling much below 75 F until the early hours of the morning.
Winter – Winter brings cooler days, around 60 F, and 32 F nights. In occasionally snows at higher elevations.
4.Lassen Volcanic National Park
Lassen Volcanic National Park is located about eight miles northeast of Mineral, CA, or fifty miles east of Red Bluff, CA on Highway 36 or 50 miles east of Redding, CA on Highway 44.
Snow covers much of the park mid October through early June. The Lassen Park Road (the main road that connects Highway 89) is usually closed late October through early June. Many of the main park attractions are snow covered and inaccessible by car and foot. July, August, and September may bring mostly sunny skies with warm daytime temperatures and cold nighttime temperatures.
5.Redwood National Park
Redwood National Park is located on the northwest Pacific coast of California, between the cities of Klamath Glen on the north and Trinidad on the south border or the park. The Park is situated along a long, narrow stretch of northern California coast, nearly abutting Oregon.
Summers are generally mild. Fog is often encountered near the coastline, with sunny, warmer weather more common inland. Winters are generally cool with considerable precipitation.
Wear layers of clothing to accommodate cool to warm temperatures and good walking shoes. Rain protection should be included at any time of year.
6.Sequoia and Kings Canyon National Parks
Sequoia and Kings Canyon National Parks are located in west central California, west of Death Valley National Park and east of Fresno, California.
Temperatures vary with elevation. In the summer, daytime temperatures often exceed 100° F in the foothills, but seldom exceed 90° F in the sequoia groves. Even in the summer, backpackers in the highcountry can encounter nighttime temperatures in the low 30's, and occasionally even in the 20's.
7.Yosemite National Park
Yosemite National Park is located in eastcentral California, east of the city of Modesto, California.
Yosemite National Park embraces almost 1,200 square miles of scenic wild lands set aside in 1890 to preserve a portion of the central Sierra Nevada that stretches along California's eastern flank.
Weather can change rapidly during all seasons of the year. Elevation plays a major role in temperature and precipitation. Most of the moisture comes in the months of January, February and March, and the winter climate is relatively mild. Sierra summers are typically warm and dry. April and November are transitional months, when warm, sunny days can suddenly become stormy. Clouds can build up during the summer to produce spectacular thunderstorm activity.
Tag : National Parks in California , california national parks list .