Big Bend National Park Weather Information
Big Bend National Park Weather Information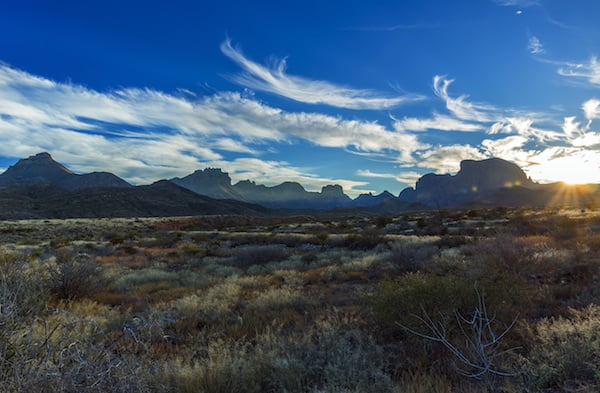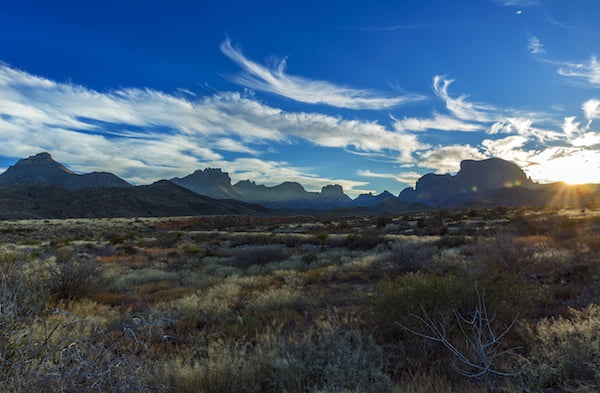 Annual precipitation is just under 10 inches in most of the park, but in wet years may exceed 30 inches in the mountains.
Typically, winter and spring are dry seasons; the rains usually begin in June and last into the fall.
Summer brings hot days and warm nights. Dramatic afternoon lighting storms with high winds are common and come on quickly. Heavy down pours may result in flash floods.
Winter days may be sunny and warm, but nights tend to be cold. Winter storms can blow in suddenly with plummeting temperatures and rain or snow.
The weather in Big Bend – hot or cold – injures and kills more hikers than any other factor. Come well prepared because weather changes can be dramatic and unexpected.
Big Bend National Park Weather Statistics
| | | | | | | | | | | | | | |
| --- | --- | --- | --- | --- | --- | --- | --- | --- | --- | --- | --- | --- | --- |
| | Jan | Feb | Mar | Apr | May | Jun | Jul | Aug | Sep | Oct | Nov | Dec | Annual |
| High – °F | 60.9 | 66.2 | 77.4 | 80.7 | 88.0 | 94.2 | 92.9 | 91.1 | 86.4 | 78.8 | 68.5 | 62.2 | 78.9 |
| Low – °F | 35.0 | 37.8 | 45.3 | 52.3 | 59.3 | 65.5 | 68.3 | 66.4 | 61.9 | 52.7 | 42.3 | 36.4 | 51.9 |
| Avg Precip (in) | 0.46 | 0.34 | 0.31 | 0.70 | 1.50 | 1.93 | 2.09 | 2.35 | 2.12 | 2.27 | 0.70 | 0.57 | 15.34 |
| Precip YTD (in) | 0.46 | 0.80 | 1.11 | 1.81 | 3.31 | 5.24 | 7.33 | 9.68 | 11.80 | 14.07 | 14.77 | 15.34 | 15.34 |
Big Bend National Park 10 Days Weather Forecast