Yosemite National Park Lodging Guide
Yosemite National Park Lodging Information
Yosemite Concession Services operates a number of lodging facilities in Yosemite National Park under contract with the National Park Service. Rates range from $48.00 per night for a basic tent cabin with nearby bathroom, to over $318.00 per night for a room at The Ahwahnee. Yosemite Concession Services also operates the High Sierra Camps.
Reservations can be made up to one year and one day in advance by writing to:
Central Reservations
5410 East Home
Fresno, CA 93727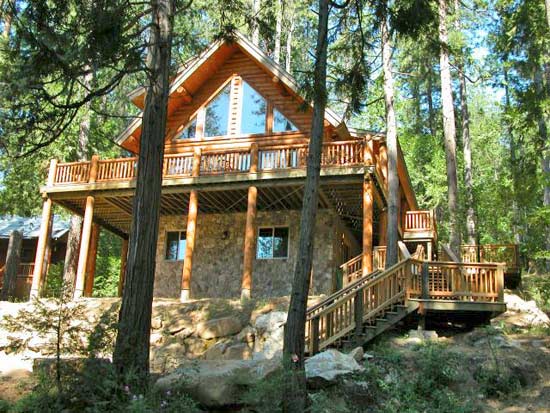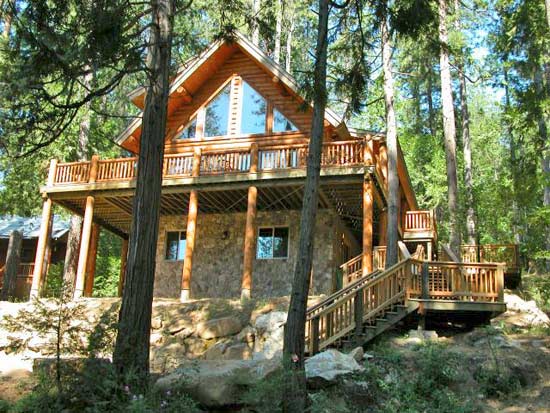 The Ahwahnee
The Ahwahnee, open since 1927, includes 123 guest rooms (99 in the main building and 24 cottage rooms) and 4 parlor rooms. These rooms are the top-of-the-line in-park. The rooms have comfortable furnishings including upholstered chairs, televisions, refrigerators, bathrobes, hair dryers and bath amenities. Some rooms have king-size beds. Each room is accented with original Native American designs and is ideal for those guests who desire more service. An Ahwahnee Parlor is a sitting room (without a bathroom) adjoining a hotel room. Guests may book a parlor in conjunction with the adjoining room to create a suite, however, parlor rooms may not be booked separately. Each parlor has its own unique decor. Ahwahnee Cottage Rooms are located in a wooded setting on the grounds. Guests enjoy all the services and facilities of the Ahwahnee.
The Ahwahnee provides concierge service, bell service, valet parking, turn-down service, room service, daily in-room ice service and afternoon tea served in the Great Lounge. The Ahwahnee Dining Room, Great Lounge and Solarium are just steps away from any guests' door. The hotel houses a unique gift shop, Sweet Shop, The Ahwahnee Lounge, swimming pool, and tennis courts. Evening activities also include enlightening interpretive slide presentations.
The Ahwahnee is one of America's most distinctive hotels, unparalleled in magnificence and charm. The hotel is a great American castle, massive and warm with huge cathedral ceilings, enormous stone hearths and richly colored Native American and Oriental rugs. The hotel was designated a National Historic Landmark on 01 Jun 1987. There is a historic tour of the public areas takes place every Monday, Wednesday and Friday at 1:00 pm.
Curry Village
Curry Village lodging facilities are open spring to fall and weekends and holidays in the winter. It is located beneath Glacier Point. There are 628 guest accommodations at Curry Village with 18 standard motel rooms, 103 cabins with private bath, 80 cabins with central bath and 427 canvas tent cabins with a central bath house.
Standard motel rooms have private bathrooms. Cabins are available with private bath or sharing a central bath house and can accommodate up to five people with a roll-away bed or crib.
Canvas covered cabins offering beds with linen and blankets and shared central bath house are available. No phones or televisions. Wheel-chair accessible cabins are available.
Curry Village facilities include the Yosemite Mountaineering School (September through June) and a Gift Shop, Mountain Shop, Bicycle Rental Stand and River Raft Rental Stand in summer and Cross-Country ski rentals and ice skating rink in winter. During summer months, National Park Service Rangers, as well as local photographers and historians present informative interpretive programs in the Curry Village Amphitheater. The Curry Pavilion Cafeteria offers breakfast, lunch and dinner. Fast food service is available at the Hamburger desk and the Pizza Patio. Food service facilities are open from spring to fall.
High Sierra Cabins
High Sierra cabins are made of canvas with a wood frame and a concrete floor, furnished with iron-framed beds complete with mattress, linen and wool blankets. Daily maid service, towels and soap provided. Restroom and shower facilities are centrally located. Most are equipped with a wood stove for heat; no electricity, phones or televisions. Canvas cabins have a combination of single and double beds; some sleep up to six people dormitory-style in single beds. Roll-away beds and cribs are not available.
High Sierra Camps
High Sierra Camps offer guests dormitory style accommodations. Merced Lake provides 19 canvas cabins which will accommodate up to 60 people, Vogelsang sleeps 42 people with a total of 12 cabins, Glen Aulin can house 32 people in 8 canvas cabins, 36 people can be housed in 8 canvas cabins at May Lake, and Sunrise Camp has a total of 9 canvas cabins which will hold up to 34 people. All camps provide beds with linens and blankets. Rest room and shower facilities are also available. Breakfast and dinner are served in a central dining tent.
Housekeeping Camp
Housekeeping Camp accommodations are the closest thing to roughing it without a tent. They are located along the Merced River. Each unit sleeps up to six persons. Each unit consists of three concrete walls, concrete floor and a double canvas roof. The fourth wall is a canvas curtain separating the sleeping area from a covered cooking/dining area with privacy fence. Units are semi-furnished with a picnic table, food preparation area, two, single-size fold-down bunks and a double bed. Housekeeping Camp offers 282 units, central restroom and shower facilities (soap and towels are provided), laundry and a small grocery store. No phones or television.
Tuolumne Meadows Lodge
Tuolumne Meadows Lodge has 69 High Sierra canvas cabins. Breakfast and dinner are served in a central dining tent. Tuolumne Meadows facilities include the Mountaineering School, stables, gas station, post office, hamburger stand and grocery store.
Wawona Hotel
Wawona was once an Indian encampment and, later, was the site of a wayside hotel built in 1956 by Galen Clark. Known as Clark's Station. It served as a stop for visitors in the transit between Yosemite Valley and Mariposa. In 1864, when Yosemite Valley and the Mariposa Groves were set aside for protection. Clark became the first guardian of the area. In 1875, the year the original Wawona road opened, the Washburn brothers purchased the area and build the Wawona Hotel that is still in operation today. Wawona focuses on Yosemite's human history. It is the setting of the Pioneer Yosemite History Center, a collection of relocated historic buildings and horse-drawn coaches.
White Wolf Lodge
White Wolf Lodge provides Accommodations in 24 High Sierra canvas cabins and 4 cabins with private bath. Breakfast and dinner are served in the White Wolf dining room. Advance reservations are required for dinner.