Yosemite National Park Fees
Entrance Fees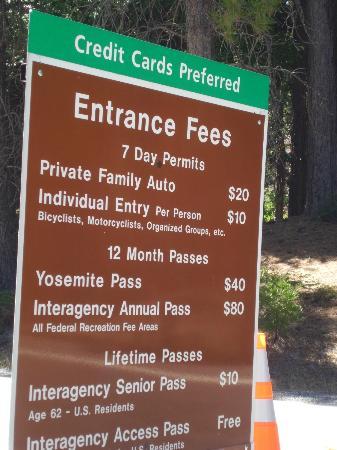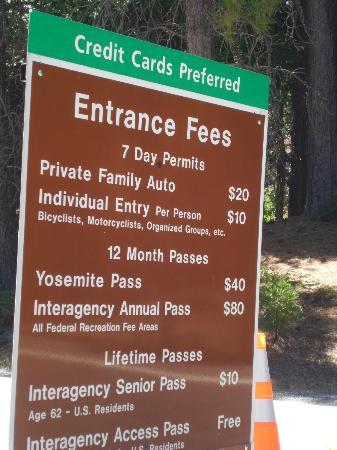 | | |
| --- | --- |
| Individual Entry (Bike, Foot) | $ 10.00 (Seven Day Pass) |
| Private Non-commercial Vehicle | $ 20.00 (Seven Day Pass) |
| Annual Pass (Good one year from date of purchase) | $ 40.00 |
| Gold Access Passport (Blind or permanently disabled) | Free (Lifetime – good in all national parks) |
| Golden Age Passport (One time fee – for those 62+) | $ 10.00 (Lifetime – good in all national parks) |
| National Park Pass (Good one year from purchase date) | $ 50.00 (Good in all national parks) |
| Golden Eagle Pass (Good one year from purchase date) | $ 15.00 (Good in all natl parks & natl forests) |
No Reservations are needed to enter Yosemite National Park
Golden Access Passport
The Golden Access Passport is a free pass available to all permanent U.S. residents who are eligible to receive federal benefits based on disability, whether or not you are actually receiving them or not. This pass entitles the bearer, and immediate family or accompanying passengers in a private vehicle, to free admission to all U.S. National Parks, Monuments, Forests, and Historic Sites, as well as half price camping. Apply in person at any National Park Service or U.S. Forest Service area.
Wilderness Permit
$ 5.00 person for reservations
A wilderness permit is required to stay overnight in the wilderness. Permits are free; reservations are $ 5.00 per person.