Welcome to Rocky Mountain National Park
Welcome to the Rocky Mountain National Park Information Page.
Here you will find all you need to know about the natural history of the park.
Learn about the geology, trees, mammals, birds, or other plants and wildlife of the area.
Rocky Mountain National Park is located in north central Colorado, west of and in between the cities of Fort Collins and Boulder, Colorado.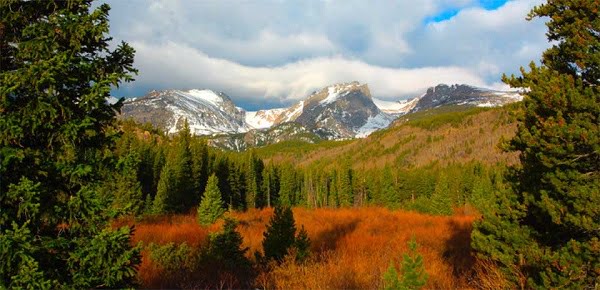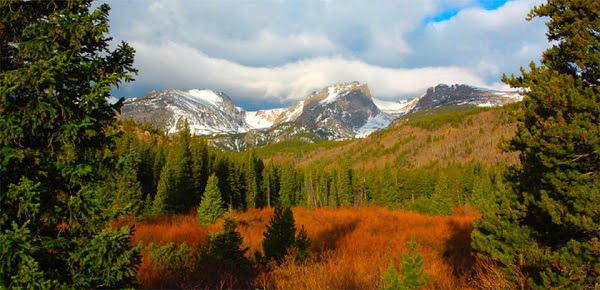 You can see images of Rocky Mountain here: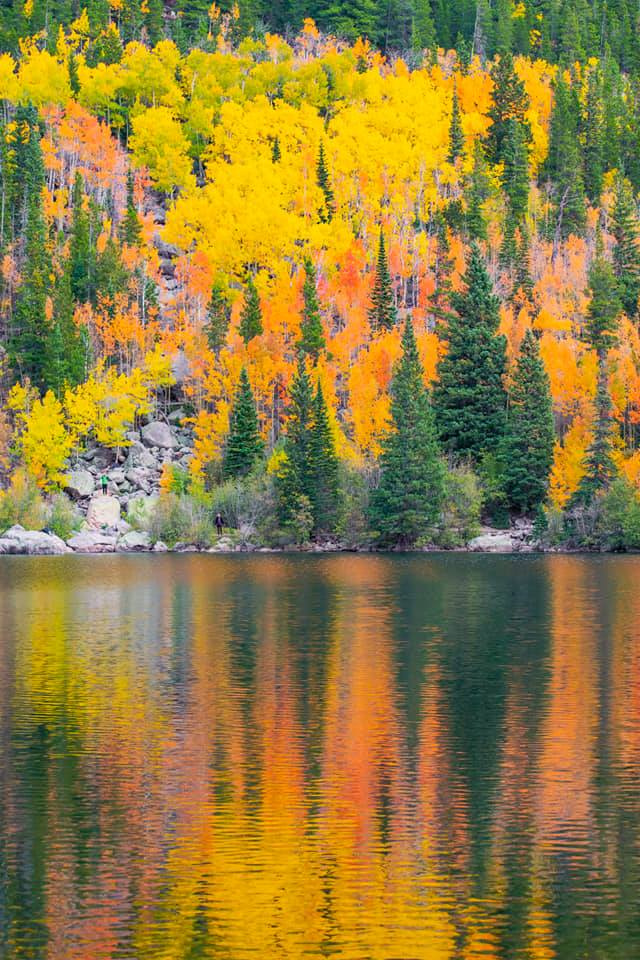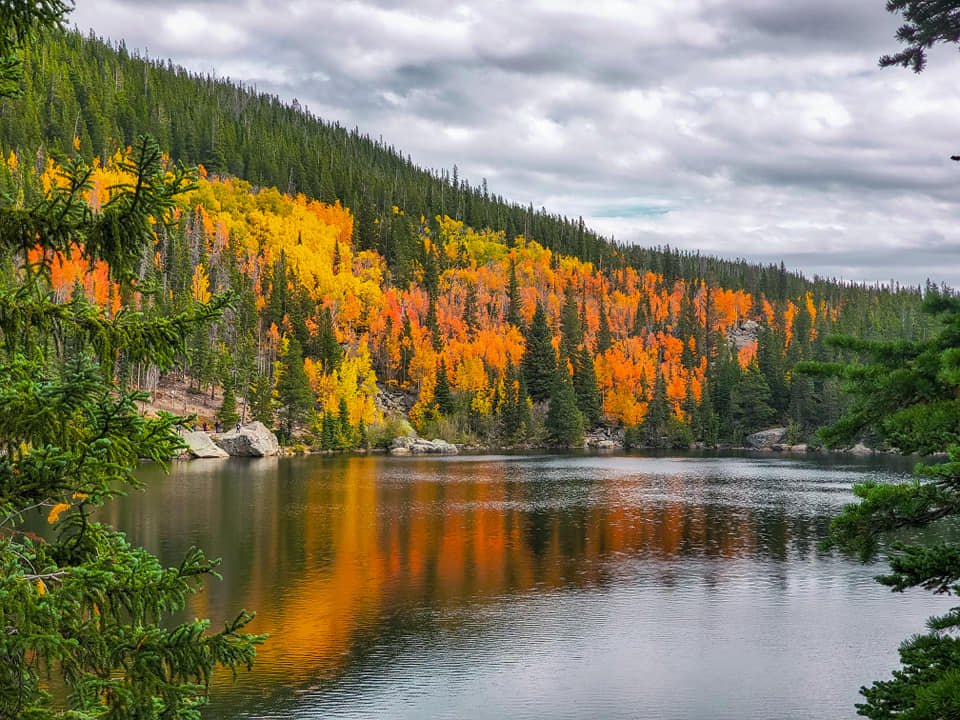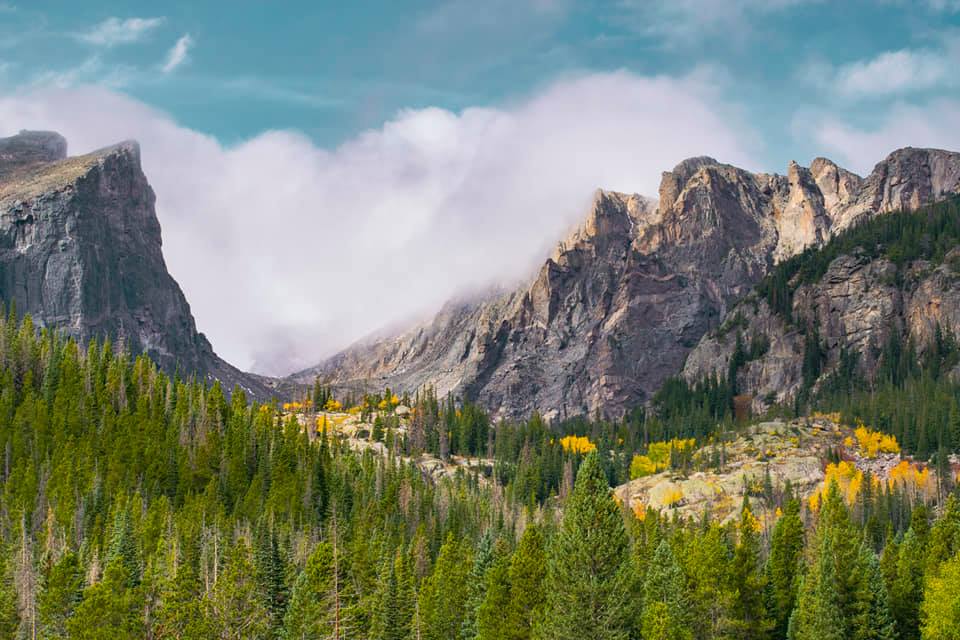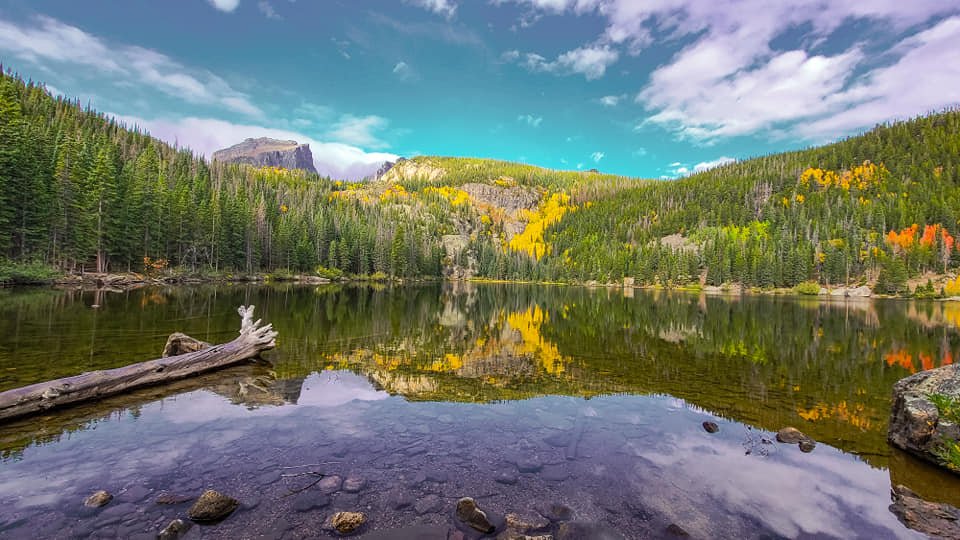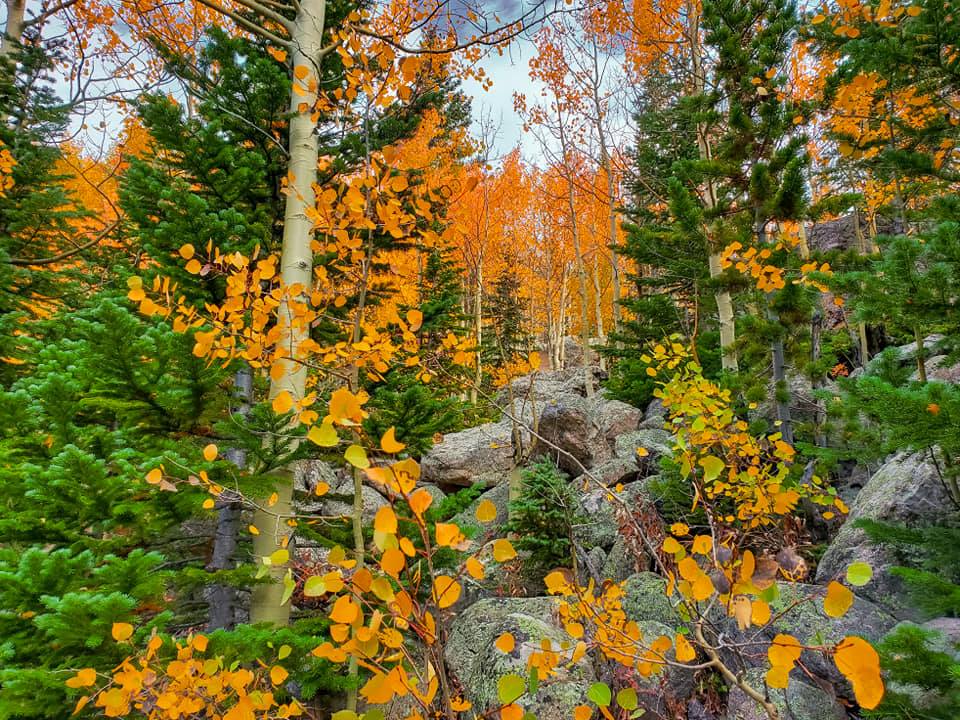 Getting to Rocky Mountain National Park
The closest major airport is Denver about 70 miles south of the park
From the North
1. Take I-25 South to Highway 34 West to the park.
From the East
1. Take I-80 West to I-76 West to Highway 34 West to the park.
2. Take I-70 West to I-25 North to Highway 36 North to the park.
From the South
1. Take I-25 North to Highway 36 North to the park.
From the West
1. Take I-70 East to Highway 40 North to the park.
2. Take I-70 East to I-25 North to Highway 36 North to the park.
3. Take Highway 40 East to the park.
Additional Directions
The park can be reached from the North and South via I-25. From the East it can be reached I-70 and I-76 and via Highways 34, 36 and Stateroad 7, and from the West by I-70 and Highways 40 and 34.
Transportation
The nearest major rail, air and bus terminals are at Denver, 70 miles from Estes Park, and at Cheyenne, 91 miles to the northeast. Bus service from Denver to Estes Park is available from several companies.
Establishment the Rocky Mountain National Park
President Woodrow Wilson signed legislation on 26 Jan 1915 to create Rocky Mountain National Park. In 1976 the natural ecosystems of the park, which represent the Rocky Mountain Biogeographic Province, received recognition through the United Nations "Man and Biosphere" program as an international Biosphere Reserve. The reserve is part of the network of protected samples of the world's major ecosystem types that is devoted to conservation of nature and genetic material and to scientific research in the service of humanity. It provides a standard against which the effects of human impact on the environment can be measured.
Designations:
Bioshere Reserve – October 26, 1976
Trail Ridge Rd = All-Am. Rd, National Scenic Byway – September 19, 1996
Size and Visitation of Rocky Mountain National Park
Acerage – FY 2001
Gross Area Acres 265,769
The park has grown to more than 415 square miles. In 1990, it gained an additional 465 acres when Congress approved expansion of the park to include the area known as Lily Lake. The National Park Service, the Conservation Fund, and some diligent legislators successfully halted land development in this area adjacent to the park's boundary. It now is an important buffer zone that helps protect the migratory routes of wildlife in the park.
Visitation – FY 2000
Total Recreation Visits – 3,180,889
History of Rocky Mountain National Park
The snow-mantled peaks of Rocky Mountain National Park rise above verdant subalpine valleys and glistening lakes. One-third of the park is above tree line, and here tundra predominates – a major reason why these peaks and valleys have been set aside as a national park.
Visitors Guide
Accessibility
Park Headquarters, Lily Lake, Moraine Park Museum, Alpine Visitor Center and Kawuneeche Visitor Centers are accessible with some ranger led activities. Trail to Bear Lake, Beaver Boardwalk, Sprague Lake and Coyote Valley trails are accessible, as well as the backcountry site located at Sprague Lake. Most campgrounds, amphitheaters, overlooks and bathrooms are moderately accessible.
Backcountry Camping
Summer backcountry campsites can be reserved starting 01 March each year. Permits are required for all overnight camping. They may be obtained at the Headquarters Backcountry Office or the Kawuneeche Visitor Center. Self reservation is available in some locations through out the winter months. Winter backcountry hours are 8:00 am – 4:30 pm.
Basic Recommendations
I recommend that you plan your trip and the areas you would like to see and then go and relax and make a day of it. Go and see all that is in the area and enjoy it. You spend more quality time and learn and see more than you could ever imagine.
Rocky Mountain National Park is open year-round with peak visitation in Jul and Aug. The roads close after heavy snow and the only road that goes through the park from one side to the other, closes from Oct through May.
Biking Guide
Biking in Rocky Mountain National Park is for the serious tourer. Riding is on paved road; bouncing downhill over bouldered trail is strictly prohibited. But don't think the challenge is any the less for that. Trail Ridge Road is a 4 to 6 hour ride. If you can climb the 3700 feet up from Estes Park, you will find a delightful Alpine ride at 12,000 feet. And of course it's all downhill from there, 3400 feet to Grand Lake!
Camping
Five Campgrounds (577 sites); Longs Peak, Aspenglen and Timber Creek are first come, first served. Moraine Park and Glacier Basin are reservation campgrounds. Longs Peak, Moraine Park and Timber Creek campgrounds open year round. Group sites available at Glacier Basin.
Backcountry camping by permit only. Designated backcountry sites (269) and zoned areas. There is a $15.00 permit fee during summer, with reservations suggested. Permits are required for bivouacs.
Entrance Fees
Individual Entry (Bike, Foot, Motocycle & Moped) $ 10.00 (Seven Day Pass)
Private Non-commercial Vehicle $ 20.00 (Seven Day Pass)
Rocky Mountain Annual Pass $ 35.00 (Good For One Year)
National Park Annual Pass $ 50.00 (Good For All National Parks)
Backcountry Permit $ 15.00
Gold Access Passport (Blind or permanently disabled U.S. residents) Free (Lifetime – good in all national parks)
Golden Age Passport (one time fee – for those 62+ years young) $ 10.00 (Lifetime – good in all national parks)
Golden Eagle Passport (good one year from date of purchase) $ 65.00 (good in all national parks & federal fee areas)
Golden Access Passport
The Golden Access Passport is a free pass available to all permanent U.S. residents who are eligible to receive federal benefits based on disability, whether or not you are actually receiving them or not. This pass entitles the bearer, and immediate family or accompanying passengers in a private vehicle, to free admission to all U.S. National Parks, Monuments, Forests, and Historic Sites, as well as half price camping. Apply in person at any National Park Service or U.S. Forest Service area.
Fishing
Sport fishing is permitted in Rocky Mountain National Park, a protected area. Fishing activities are balanced with efforts to restore and perpetuate n atural aquatic environments and life.
Fishing was popular with early settlers in the Rocky Mountains. In an attempt to improve the sport, they stocked many streams with non-native species of trout and moved trout to lakes and streams that lacked them. The only trout native to the park were the greenback cutthroat and the Colorado River cutthroat.
Food and Supplies
Available in towns of Grand Lake or Estes Park and snack bar located at gift shop at Fall River Pass.
Hiking
There are 355 miles of trails ranging from easy to strenuous. There are 82 miles of paved roads, and 28 miles of unpaved roads. Trail Ridge Road (highway 34), crosses the park and rises to 12,183 feet, with ten miles of road above tree line. Trail Ridge Road is open Memorial Day through mid-October. Fall River Road, one-way uphill only, is nine miles of gravel road and meets Trail Ridge Road at Fall River Pass. Fall River Road is open July 4 through mid-October. Bear Lake Road, highway 36, and lower sections of highway 34, are open year round. Roads close temporarily, due to weather conditions.
Horseback Riding
Horses with guides can be hired at two location inside the park on the east side, or from a number of liveries outside the east and west park boundaries during the summer seasons. Horses or any other trail stock are not permitted to travel crosscountry. The park maintains more than 260 miles of trails open to private and commercial horse users. Ask a park ranger which trails are open or closed to stock use.
Lodging
There is no lodging in the park. See the Lodging Page for more information. See the Camping Page for more information on the 5 campgrounds in the park.
Mountain Climbing
Call directly to the Backcountry Office, Rocky Mountain National Park at 970-586-1242 for information on permit procedures, backcountry conditions, and climbing regulations. Day use in the park requires no special registration or permit. All overnight use requires a permit discussed in the following section. For safety considerations, climbers are encouraged to notify family or friends on route selections and contact them at the completion of any climb. For emergencies call 911 or 970-586-1399.
Permits
Backcountry camping and bivouac permits, 970-586-1242.
Reservations for outreach school programs must be made in advance. Environmental Education fee waivers for school groups should be made two weeks in advance, 970-586-3777.
Commercial filming permits are required, 970-586-1278.
Pet Information
Pets are not allowed on park trails, snowplay areas, or in the backcountry. They are allowed in campgrounds, picnic areas, and along roadsides. Pets must be leashed and attended at all times. Never leave pets unattended in your vehicle.
Programs and Activities
Ranger led programs are offered daily through the summer and frequently during the remainder of the year. Evening campfire programs are offered at campgrounds. Special lecture series and programs occur year round. The Rocky Mountain Nature Association offers summer seminar programs, 970-586-1258. Both the towns of Grand Lake and Estes Park hold special activities.
Scenic driving tours, hiking and bicycling, camping, backcountry camping, skiing and snowshoeing, limited snowmobiling, picnicking, ranger led activities, wildlife and wildflower viewing and birdwatching.
Skiing & Snowmobiling
Glaciers and snowfields are dangerous, steep slopes that end in a jumble of jagged boulders. Many park visitors have been seriously injured or killed by sliding on these slick areas. Stay on designated trails to avoid such dangers.
Snow play is permitted in only two areas of the park – Bear Lake and Hidden Valley. Be aware that snow conditions can be icy and hard packed. Heed signs in snow play areas.
Wildlife Watching
Rocky Mountain National Park visitors have a passion for viewing wild animals, especially the big ones. With an elk herd numbering more than 3,000, about 800 bighorn sheep, numerous mule deer and a small population of moose calling the park home, it's no surprise that wildlife watching is rated the number-one activity by a vast majority of Rocky's three million annual visitors.
The park's great large animal population makes it one of the country's top wildlife watching destinations. But there is much more to see than these so called; charismatic megafauna." Also found are nearly 60 other species of mammals; more than 280 recorded bird species; six amphibians, including the federally endangered boreal toad; one reptile (the harmless garter snake); 11 species of fish; and countless insects, including a surprisingly large number of butterflies.
Some basic knowledge of animal habits and habitats greatly enhances prospects of spotting Rocky Mountain's wild residents. A few park favorites:
Elk can be seen anytime, a popular viewing period being the fall rut, or mating season. Look for elk in meadows and where meadow and forest meet. Elk spend much of their time at or above treeline during the summer, moving to lower elevations in the fall, winter and spring. Favorite feeding times: dawn and dusk.
Bighorn sheep are commonly seen at Sheep Lakes from May through mid-August.
Moose frequent willow thickets along the Colorado River in the Kawuneeche Valley on the park's west side.
Otters were reintroduced into the Colorado River area and are doing fairly well. These animals are difficult to spot.
Mule deer are common and can be seen anywhere. They are most often found at lower elevations in open areas.
Bats feed over lakes and ponds at dawn and dusk.
Marmots and pikas favor rocky areas. Marmots are best seen on the alpine tundra along Trail Ridge and Old Fall River roads. Pikas, small, light-colored mammals are common in rock piles. Listen for their sharp, distinctive bark and watch for movement.
Clark's nutcrackers, Steller's jays, golden eagles and prairie falcons can be seen along Trail Ridge Road.
White-tailed ptarmigans, some of the most sought-after birds in Rocky Mountain National Park, are common but difficult to spot. For best results, hike on the tundra and look carefully. Ptarmigans usually remain still, relying on their natural camouflage for protection.
American dippers, or water ouzels, can be found along most streams. Listen for their loud call, similar to the rapid clicking of two stones together, as they fly up and down their territories.
Weather of Rocky Mountain National Park
The high country of Rocky Mountain National Park is noted for extreme weather patterns. Shaped by elevation, slopes, and exposure, these patterns can change rapidly.
Temperatures are often moderate at elevations below 9,400. At higher points like Bear Lake, Trail Ridge Road or Longs Peak. It may even snow in July.
A wide variation between day and nighttime temperatures is also typical of mountain weather. Summer days in Jul and Aug often reach the 70's or 80's and drop into 40's at night.
Based on ten years of precipitation data, Estes Park receives approximately 13.10 inches of moisture every year. Grand Lake receives about 19.95 inches yearly. This precipitation comes in the form of rain or snowfall through the year.
The Continental Divide runs northwest to southeast through the center of the park atop the high peaks. This accounts for two distinct weather patterns, one typical of the east side near Estes Park and the other associated with the Grand Lake area on the park's west side.
Summer :  sunny mornings, possible afternoon thunderstorms and cool nights.
Winter : cool conditions to blizzard conditions with extreme temperature variations. Weather conditions change quickly in mountainous areas and snow is possible year round. Wear appropriate dress for each season; comfortable clothing, dress in layers, rain gear, and sunscreen