Welcome to Lassen Volcanic National Park
Welcome to the Lassen Volcanic National Park Information Page.
Here you will find all you need to know about the natural history of the park.
Learn about the geology, trees, mammals, birds, or other plants and wildlife of the area.
Lassen Volcanic National Park is located about eight miles northeast of Mineral, CA, or fifty miles east of Red Bluff, CA on Highway 36 or 50 miles east of Redding, CA on Highway 44.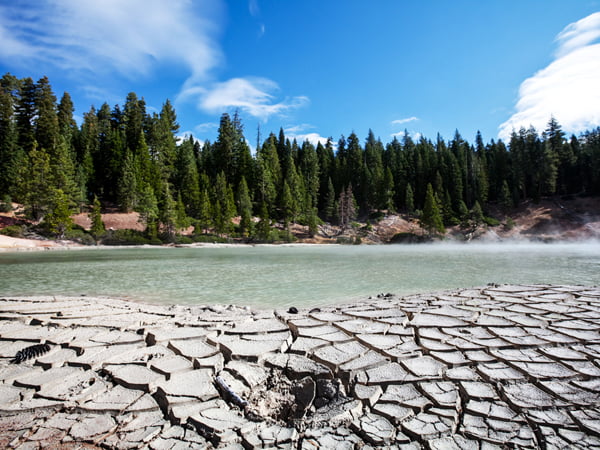 Getting Here
The closest major airport is Reno, NV with smaller airports at Redding and Chico, CA.
From the North
1. Take I-5 South to Redding, CA to Stateroad 44 East to the park.
2. Take I-5 South to Stateroad 89 South to Stateroad 44 / 89 South to the park.
From the East
1. Take I-80 West to Highway 395 North to Stateroad 36 West to the park.
From the South
1. Take I-5 North to Red Bluff, CA then take Stateroad 36 East to the park.
From the West
1. Take Stateroad 299 East to Redding, CA to Stateroad 44 East to the park.
2. Take Stateroad 36 East to Red Bluff, CA then take Stateroad 36 East to the park.
Transportation
The best access to the park is by private automobile. Auto rental services are available in Redding, Red Bluff, Chico, Susanville or Reno. Greyhound and Trailways bus lines serve cities within 60 miles of the park. Major airlines serve Redding, Chico and Reno.
Establishment the Lassen Volcanic National Park
Lassen Volcanic was established as a national park 09 Aug 1916 because of its significance as an active volcanic landscape. Lassen Peak began erupting in 1914, had the most significant activity in 1915, and had minor activity until 1921. All four types of volcanoes in the world are found in Lassen's 106,000 acres.
By the early 1900s local sentiment was building for the protection of Lassen Peak and Cinder Cone against commercial developement. In 1906 petitions from both Lassen and Plumas counties urged President Theodore Roosevelt to set aside the most significant features in the Lassen park are as national monuments. These recommendations eventually reached the desks of President Roosevelt, and on May 6, 1907, they were signed by the President. Lassen Peak and Cinder Cone became national monuments. While the Forest Service continued to manage the new sites, located within the Lassen National Forest, these two monuments formed the nucleus of the future park and gave recognition to Lassen Peak anc Cinder Cone as striking examples of volcanic activity.
The startling eruptions of Lassen Peak in 1914 and 1915 attracted national attention and stimulated local efforts to expand the origional monument into a national park. On August 9,1916, the US Congress passed a bill establishing Lassen Volcanic National Park, and President Woodrow Wilson then signed it into law.
Size and Visitation of Lassen Volcanic National Park
Lasson Volcanic National Park includes both of these earlier monuments as well as additional acreage aquired over the years. Today the park contains approximately 150 square miles, or over 106,000 acres.
Lassen Volcanic National Park is open year-round, however, access is difficult in winter and spring. The best time of the year to visit the park for hiking and car touring is August and September. The best time of the year to visit for cross country skiing and snowshoeing is January, February and March. The highest visitation is in August, with the lowest being in March.
Volcanic History
In May 1914, Lassen Peak burst into eruption, beginning a 7-year cycle of sporadic volcanic outbursts. The climax of this episode took place in 1915, when the peak blew an enormous mushroom cloud some 7 miles into the stratosphere. The reawakening of this volcano, which began as a vent on a large extinct volcano known as Tehama, profoundly altered the surrounding landscape. The park is a compact laboratory of volcanic phenomena and associated thermal features except true geysers. It is part of a vast geographic unit – a great lava plateau with isolated volcanic peaks – that also encompasses Lava Beds National Monument, California, and Crater Lake National Park, Oregon.
Plant Life at Lassen Volcanic National Park
The park's plant life mixes species of the Sierra Nevada to the south and the Cascade Range. The result is a relative abundance of species. The park boasts some 779 plant species, but nearby Mount Shasta has only 485 species. About 24 Sierran species are at the northern limit of their range here. About 14 Cascadian species are at their southern limit.
Catastrophic events that created the Devastated Area and Chaos Jumbles also created Hat and Manzanita Lakes. These are indeed fortunate landscape recoveries for today's park visitor. Hat Lake is undergoing succession too. Rapidly filling with debris from higher elevation Hat Lake will soon disappear, leaving a meadow that will one day give way to forests.
Visitors Guide
Accessibility – Bumpass Hell Parking area portable restrooms are accessible with assistance. The Devastated Area Interpretive Trail and certain naturalist programs are accessible. The Loomis Museum restrooms, Camper Store Campground and Park Headquarters information desk and restrooms are accessible.
Basic Visit Recommendations – Allow at least three hours to drive across the park and to make stops. Allow at least two days to hike some of the spectacular trails.
Biking – Bicycles are permitted on park roads and in campgrounds but prohibited on all park trails. A helmet must be worn by cyclers under age 18. Skating, skateboarding, and rollerblading are not permitted.
Boating – Motorized boats are prohibited on all park waters. Coast Guard approved flotation devices must be on board for all occupants and worn by children under 12.
Lake Helen and Emerald, Reflection and Boiling Springs Lake are closed to boating. Boats may not be left on Manzanita or other lake shores overnight. At Manzanita Lake, boats may only be put in and taken out at the designated launch sites.
Camping – There are seven campgrounds in the park. Groups must camp in one of two group campgrounds (Lost Creek or Juniper Lake). Reservations for the group campgrounds are required and must be made in advance. Please contact 530-595-4444 ext. 5155 for information on group camping. All other park campgrounds operate on a first come, first served basis; no reservations can be made.
Fishing
Park fishing regulations conform with California State regulations.
A California State fishing license is required for those over 16.
Emerald Lake, Manzanita Creek and the part of Manzanita Lake within 150 ft of the inlet are closed to fishing.
Special regulations for Manzanita Lake:
Catch and release only; only artificial lures and single barbless hooks can be used.
Food and Supplies – The Lassen Chalet and Manzanita Lake Camper Store operate daily in the summer months and offer food and gifts. See the Lodging Page for local towns around the park.
Hiking – Lassen Volcanic National Park contains 150 miles of hiking trails, including 17 miles of Pacific Crest Trails. Trails vary in length and difficulty, winding through coniferous forest, alpine tundra and along water ways.
Pet Information – Pets must be leashed or restrained at all time.
They are permitted on established roadways, in campgrounds, picnic areas, and in other developed areas.
Weather of Lassen Volcanic National Park
Snow covers much of the park mid October through early June. The Lassen Park Road (the main road that connects Highway 89) is usually closed late October through early June. Many of the main park attractions are snow covered and inaccessible by car and foot. July, August, and September may bring mostly sunny skies with warm daytime temperatures and cold nighttime temperatures.