Welcome to Katmai National Park
Welcome to the Katmai National Park Information Page.
Here you will find all you need to know about the natural history of the park.
Learn about the geology, trees, mammals, birds, or other plants and wildlife of the area.
Katmai National Park and Preserve lies about 290 miles southwest of Anchorage on the Alaska Peninsula, just west of King Salmon. Kodiak Island lies just off the Katmai Coast to the east.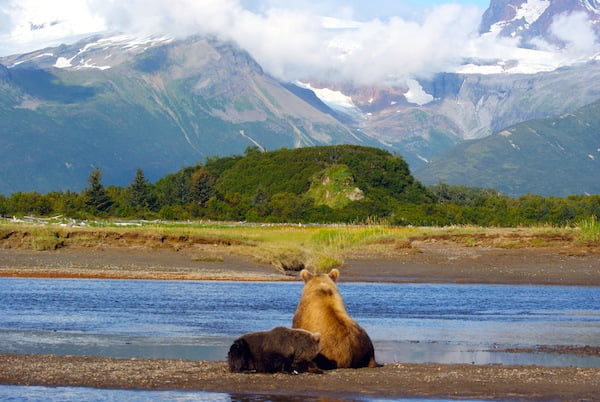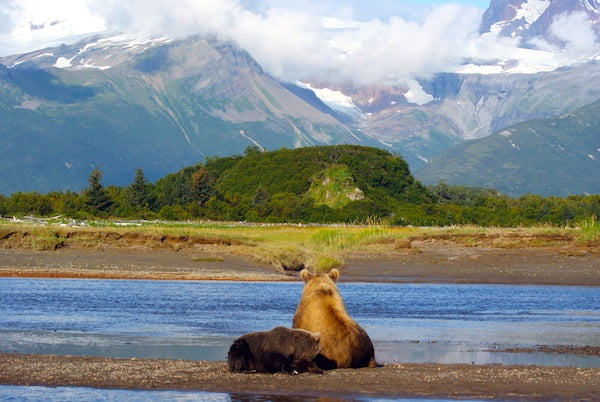 Getting There
The closest major airport is Anchorage, AK with smaller airports at Kodiak and Homer, AK.
There is no road access to Katmai National Park except from King Salmon. The dirt road from King Salmon goes to Lake Camp at the edge of the park. Lake Camp provides access to boats for Naknek Lake and Brooks Camp.
The only other road in Katmai National Park and Preserve is the road from Brooks Camp to the Valley of 10,000 Smokes. It is a 23 mile dirt road, that makes three river crossings before reaching Three Forks cabin offering a view of the Valley of 10,000 Smokes.
Visitors can take advantage of the daily bus tour offered by the concession from Brooks Camp.
Daily commercial flights operate between Anchorage and King Salmon. Charters air taxis and boat tours are available from King Salmon, Anchorage, Homer and Kodiak. Scheduled service into Brooks Camp is available from King Salmon by float plane and boat. Many area lodges provide their own transportation to the park.
Capsicum bear spray is not allowed on commercial airlines. Bear spray should not be taken within the cabins of air taxis. Let your pilot know if you are carrying bear spray so it can be placed in the floats of the plane.
Access to the park and preserve is by aircraft (float planes generally land on Naknek Lake), and by boat or ship. Snow machines can be used in deep winter during some years when temperatures are sufficiently low to form thick ice. King Salmon is the nearest local community.
Establishment the Katmai National Park
Katmai National Park and Preserve was proclaimed as Katmai National Monument on 24 Sep 1918 and established as a national park and preserve on 02 Dec 1980. Boundary changes were made: 24 Apr 1931; 04 Aug 1942; 20 Jan 1969; 01 Dec 1978; 02 Dec 1980. It was wilderness designated on 02 Dec 1980.
Size and Visitation of Katmai National Park
Acreage – as of September 23, 2000
Katmai National Park and Preserve
Federal Land – 382,074.00
Non-Federal Land – 36,625.22
Gross Area Acres – 418,699.22
Katmai National Park
Federal Land – 3,611,494.73
Non-Federal Land – 63,034.95
Gross Area Acres – 3,674,529.68
Visitation – 1999
Total Recreation Visits – 51,399
The majority of visitors come from early June through mid September.
Wildlife
Among all this diversity, Katmai National Park and Preserve is famous for its brown bears and fish populations. Bristol Bay streams, including the Naknek River, are the source of some of the world's largest salmon runs and appear to have been so for about the last 4000 years.
Trophy-size game fish such as trout inhabit many of the park and preserve streams. The bear come to feed on the fish, sometimes in unusually large concentrations. There is a migratory caribou herd and it appears that in the past there was a more regular presence – enough so that hunting caribou was a regular aboriginal activity. Overall, Katmai National Park and Preserve contains at least 29 species of land animals, 6 of sea mammals, 150 species of birds, and 28 of fish, as well as uncounted intertidal and coastal species.
Visitor Guide
Accessibility
Brooks Camp facilities are handicapped accessible as well as the bear viewing platform on the lower river. We caution those of limited mobility that a large number of bears remain in the vicinity of Brooks Camp. Very close encounters are common and require visitors to move briskly. The Brooks Falls Trail and Platform are not handicapped accessible. At times in July, the Falls Trail may not be appropriate for those visitors that can not move quickly off the trail, into the woods
Basic Visit Recommendations
Bear viewing at Brooks Camp is best in July and September. There are few bears in August, though they still are seen occasionally. July and September are crowded, expect waits and time limits when going to the Brooks Falls Platform in July. Weather and bears are always a factor at Katmai National Park and Preserve so plan extra time to work around delays.
Camping
You may camp anywhere in the park, but for backcountry camping, please obtain a permit from the Brooks Camp Visitor Center or park headquarters in King Salmon. There is one campground available, the Brooks Camp Campground.
Entrance Fees
There will be a $10.00 per person per day user fee at Brooks Camp. Visitors spending the night will pay on a per night basis; those visiting just for the day will pay by the day. For example, a lodge guest or camper staying four nights, will pay $40.00 in user fees even though they will actually be staying at Brooks Camp for five days. A single day visit will cost $10.00. In addition, there will be a $5.00 per person per night camping fee.
Fishing
Katmai is one of the greatest fly fishing spots in Alaska. An Alaska fishing license is required for fishing; and all state rules apply.
Food and Supplies
Meals are served at Brooks Lodge and are available for all visitors to Brooks Camp. Brooks Lodge Trading Post sells white gas, fishing gear, some snack foods, souvenirs, and other limited supplies.
Hiking
Katmai is a vast wilderness of deep, cold lakes, long scenic valleys, volcanic landscapes, and a diverse seacoast. Located at the northern end of the Alaska Peninsula, this rugged country offers opportunities for long crosscountry backpack trips or short day hikes. Boaters can canoe, float or kayak lakes, rivers and streams in Katmai. With adequate preparation, proper equipment and certain skills and knowledge, the hiker can have a safe, memorable experience.
Lodging Facilities
A concessioner provides accommodations and food service at Grosvenor Lake and at Brooks Camp from about 01 June to mid September. Reservations are necessary. Because of a change of the reservation system, reservations will not be available until after 15 Mar 1998. For more information on this, call Karen Gustin, or Mark Wagner at 907-245-3305
Meals and accommodations are also available at King Salmon and at other private lodges.
Permits and Reservations
Reservations are taken for Brooks Campground and Brooks Camp Use Permits. Use permits are required for all visitors that come to Brooks Camp.
Pet Information
Pets are allowed in Katmai National Park and Preserve with one exception. Pets are not permitted at Brooks Camp, or within 5 miles of Brook Camp, because of the high visitor use and concentration of bears. Bears and pets generally do not tolerate each other.
Programs and Activities
A variety of interpretive programs are available at Brooks Camp throughout the summer. Evening slide programs are presented nightly by interpretive rangers. Ranger led cultural walks to an archeological site are conducted each afternoon. Other walks and programs may be offered during August.
Visitor Center
King Salmon Visitor Center is located next to the airport terminal in King Salmon. It is operated by the US Fish and Wildlife Service, with a partnership with the National Park Service, Bristol Bay Borough, and Lake and Pen Borough.
The visitor center has exhibits of the local area as well as interpreters that will provide information on the entire Katmai National Park and Preserve region. Bear resistant canisters are available at the King Salmon Visitor Center for those planning to use the backcountry.
Brooks Camp Visitor Center is open early June to mid September. There all visitors attend the Brooks Camp Bear Etiquette School to learn how to behave around bears. This includes watching the Brooks Bear Orientation video. Books, cards, and posters are sold at the Visitor Center. Bear resistant canisters are available at the Brooks Camp Visitor Center for those planning to use the backcountry.
Weather of  Katmai National Park
Summer temperatures are usually about 60 F. Cool, overcast days, with strong winds are common. Be prepared for cold rainy weather as well as some warm, sunny days. Spring and fall temperatures are cool with cold nights. Winters are cold with about six hours of sunlight.