Welcome to Everglades National Park
Welcome to the Everglades National Park Information Page.
Here you will find all you need to know about the natural history of the park.
Learn about the geology, trees, mammals, birds, or other plants and wildlife of the area.
Everglades National Park is located in the southern tip of Florida, just west of the city of Miami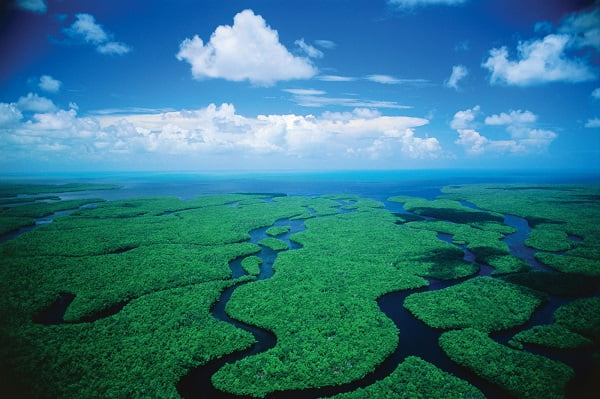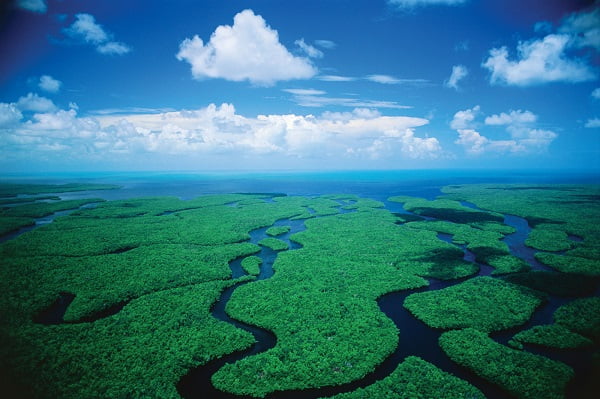 Getting to Everglades National Park
The closest major airport is Miami International about 45 miles northeast of the park.
Main Park Entrance and Flamingo
From the North
Visitors coming from the Miami area and points north may take the Florida Turnpike (Route 821) south to the Florida City exit. Turn right at the first traffic light onto Palm Drive and follow the signs to the park.
From the South
Visitors driving north from the Florida Keys should turn left on Palm Drive (344th Street) in Florida City and follow the signs to the park.
Shark Valley
Take the Florida Turnpike to the exit for SW 8th Street (also known as US 41 and Tamiami Trail). Travel 25 miles west on US 41 to signs marked Shark Valley. From the Naples area, take US 41 (Tamiami Trail) east to signs marked Shark Valley.
Gulf Coast Visitor Center
Take U.S. 41 west from the Miami area to the intersection of US 29, then take US 29 south three miles into Everglades City and follow the signs to the park visitor center. From the Naples area, take US 41 east and turn south on US 29.
Chekika
Take Krome Avenue (S.W. 177th Ave.) north from Homestead or south from US 41. Go west on SW 168th Street and follow the signs to the park.
Transportation
Miami and Fort Meyers are serviced by international airports, buses, and numerous car rental agencies. Miami has an Amtrak station. The park may be explored by personal vehicle, commercial tour bus, bicycle, motor boat, or canoe. There is NO public transportation in the park.
Establishment the Everglades National Park
On 30 May 1934, an Act was passed authorizing a park to be acquired through public donations. Everglade National Park was to be "…wilderness, (where) no development … or plan for the entertainment of visitors shall be undertaken which will interfere with the preservation intact of the unique flora and fauna of historic values the essential primitive natural conditions now prevailing in this area." This mandate to preserve wilderness and its biota is one of the strongest in the legislative history of the National Park System. Thirteen years later, through a combination of federal, state and private lands, a vast wetland teeming with life was dedicated as a national park. Everglades was the first national park preserved primarily for its abundance and variety of life, rather than for scenic or historic values.
Size & Visitation of Everglades National Park
Boundary changes since 1947 have substantially increased the size of the park from the original 460,000 acres (186,159 hectares). In 1950, the Secretary of the Interior increased the size of the park to 1,228,500 acres (497,167 hectares), including the former wildlife refuge. Two additional boundary changes increased the park to 1,400,533 acres (566,788 hectares) by 1958. In 1989, Congress passed legislation that expanded the eastern boundary of the national park by 109,000 acres (44,112 hectares), primarily for the purposes of ecosystem restoration and protection.
Acreage – as of September 23, 2000
Everglades Expansion
Federal Land – 89,282.70
Non-Federal Land – 20,210.40
Gross Area Acres – 109,493.10
Everglades National Park
Federal Land – 1,398,617.13
Non-Federal Land – 461.13
Gross Area Acres – 1,399,078.26
Visitation – 1999 Total Recreation Visits – 1,073,982
Everglades National Park is open year round. Highest visitation is from December through April, and the lowest visitation is May through November. Walking and canoe trails, boat tours and tram tours are excellent for viewing wildlife, including alligators and a multitude of tropical and temperate birds.
History of Everglades National Park
At the end of the nineteenth century the south Florida coast was still largely wilderness, one of the last coastal regions east of the Mississippi to be settled. Only three small communities, Chokoloskee, Cape Sable and Flamingo, existed along the coast of what is now Everglades National Park.
Early mariners knew about Cape Sable, located west of Flamingo as it appeared on their maps. It was here in 1838 that Dr. Henry Perrine was given a grant of land. Unfortunately his plans for a settlement did not materialize due to his untimely death at the hands of Indians. Another plan for settlement was proposed by Surgeon General Thomas Lawson who explored the Cape in 1838 for the U.S. government. He built Fort Poinsett on Cape Sable. In 1856 during the Third Seminole War, Fort Cross was established at Middle Cape.
The town of Flamingo was established in 1893; its citizens had to choose a name in order to obtain a post office. According to records from the National Archives, Howell C. Low was the first postmaster. He was appointed on December 13, 1893. Cape Sable had its own post office and Jay L. Watrons was appointed postmaster on February 23, 1904.
The 1910 federal census record shows 49 people living in Flamingo and Cape Sable. Most listed their profession as farming. There were ten heads of households, with 18 children and seven servants. Five people were cane farmers and one worked in charcoal making. (Charcoal was sold in 100 pound sacks at Key West.) Jobs that other individuals held were boatmen, farmer, hauling cane, cane farming (13) and one was retired. Many, if not all, fished for cash and food. Most also hunted. At the turn of the century plume hunting was a major source of cash income.
Endangered Species in Everglades National Park:
American crocodile (Crocodylus acutus)
Green turtle (Chelonia mydas)
Atlantic Ridley turtle (Lepidochelys kempi)
Atlantic hawksbill turtle (Eretmochelys imbricata)
Atlantic leatherback turtle (Dermochelys coriacea)
Cape Sable seaside sparrow (Ammodramus maritima mirabilis)
Snail (Everglades) kite (Rostrhamus sociabilis plumbeus)
Wood stork (Mycteria americana)
West Indian manatee (Trichechus manatus)
Florida panther (Felis concolor coryi)
Key Largo wood rat (Neotoma floridana smalli)
Key Largo cotton mouse (Peromyscus gossypinus allapaticola)
Red-cockaded woodpecker (Picoides borealis)
Schaus swallowtail butterfly (Papilio aristodemus ponceanus)
Garber's Spurge (Chamaesyce garberi)
Accessibility at Everglades National Park
Many wonders may be seen from a car window, but the Everglades reveals its greatest treasures to those who take the time to get out into it and experience its beauty firsthand. Each of us has different abilities and needs. This page should help you find and take full advantage of the facilities and resources available to you in the park.
Camping: There are three campgrounds in the park. All three have accessible campsites. Each has wheelchair accessible restrooms.
There is one backcountry site that is accessible to people with mobility impairments. It is the Pearl Bay Chickee, which is about a four hour canoe trip from the main road. It features handrails, a canoe dock, and an accessible chemical toilet.
Lodging: The Flamingo Lodge has two accessible rooms. A second floor restaurant is accessible by a steep ramp.
Boat and Tram Tours: Many of the boat tours from Flamingo are accessible. Other tours on smaller, privately owned boats may not be. Ask when making reservations. The Shark Valley tram tour is accessible; call ahead to make arrangements. This tour includes a stop at an observation tower which is reached by a 10% ramp.
Biking
Bicycling is permitted along the main park roads, on the Shark Valley tram road, on the Old Ingraham Highway, on Long Pine Key Nature Trail, and on the Snake Bight and Rowdy Bend trails at Flamingo.
Bicycling at Shark Valley is a great way to experience the quiet beauty of the Everglades. As the saw grass prairie slowly unfolds before your eyes, stop and take a moment to enjoy the life that abounds.
Boating
The park's inland and coastal waters lead to the remote Everglade spots. Rent boats and slips at Flamingo. Buy navigational charts at Flamingo marina, Ernest F. Coe Visitor Center, and Everglades City.
Camping
There are three campgrounds inside the park; Long Pine Key, Flamingo, and Chekika. All campgrounds are open year round. Camping from May through October will be by self-registration at all campgrounds. Fees are not charged from June to August. If you have a Golden Age Pass (U.S. citizen 62 or older) or Golden Access Pass (permanently disabled), camping is half price. This does not apply toward group sites.
Canoeing
Canoeing is an excellent way to explore the Everglades, because more than one third of the park is made up of marine areas and shallow estuaries. Check at the Flamingo or Gulf Coast Visitor Centers for maps and directions. Canoes may be rented at Flamingo and Gulf Coast.
Entrance Fees
Private Non-commercial Vehicle $ 10.00 (Seven Day Pass)
Individual Entry (Bike, Foot) $ 5.00 (Seven Day Pass)
Annual Everglades Pass $ 25.00 (Season)
Gold Access Pass (Blind or permanently disabled individuals) Free (Lifetime – good in all natl parks)
Golden Age Pass (1 time fee – for those 62+ years young) $ 10.00 (Lifetime – good in all natl parks)
National Park Pass (good 1 year from date of purchase) $ 50.00 (good in all natl parks)
Fishing
All waters from, and including, Nine Mile Pond northward along the Main Park Road are considered fresh water. Interior rivers in the northern part of the park, such as the Turner River, are fresh water. Contact the Visitor Center and get up to date information on your catch limit. You are responsible to know your catch limit.
Food and Supplies
There is a restaurant and store at Flamingo. The restaurant may be closed during the summer; however, food is always available at the marina store. Local restaurants and grocery stores are available in Homestead, Florida City, Everglades City, and Miami. There are no banks or automatic teller machines in the park. Gasoline may obtained at the Flamingo Marina, and in communities adjacent to the park.
Hiking
Everglades National Park has many miles of hiking and biking trails. Choose the area of the park you are interested in exploring.
Horseback Riding
Horseback riding in the park requires a special use permit. Contact the chief ranger's office at 305-242- 7700 for more information.
Lodging
The Flamingo Hotel is the only lodging available in the park:
Amfac Park & Resorts
Flamingo, FL 33034
There is lodging and services available in the local communities of:
Homestead
Florida City
Miami
Everglades City
Chokoloskee
Permits and Fees
Permits are required for backcountry camping. Film permits and special use permits are handled on an individual basis; call: 305-242-7700. For research and collection permits, call: 305-242-7800.
Backcountry Fees
This fee, for the issuance of the required backcountry permit, will be a single charge per group.
Camping Fees
Regular Sites: $ 14.00 – maximum of 8 persons
Group Sites: $ 28.00 – maximum of 15 persons at Flamingo and Lone Pine Key
Group Sites: $ 28.00 – maximum of 20 persons at Chekika
Pet Information
Pets must be physically restrained and are not allowed on trails or in the amphitheaters.
Programs and Activities
Activities
Walking and canoe trails, boat tours and tram tours are excellent for viewing wildlife, including alligators and a multitude of tropical and temperate birds. Camping, whether in the backcountry or at established campgrounds, offers the opportunity to enjoy what the park offers firsthand. Ranger Led activities, offered throughout the park, may help you to enjoy your visit even more.
Visitor Centers at Everglades National Park
Visitor centers are located at the main entrance (west of Homestead), Royal Palm, Flamingo, Shark Valley, and Gulf Coast (south of Everglades City).
Main Entrance (near Homestead and Florida City) is open daily: 24 hours a day
The Ernest F. Coe Visitor Center is open all year from 8:00 am to 5:00 pm daily
The Royal Palm Visitor Center is open daily from 8:00 am to 4:15 pm
The Flamingo Visitor Center is open from 7:30 am to 5:00 pm – Nov through Apr
Shark Valley is open daily, 8:30 am to 6:00 pm while the Visitor Center is open daily from 8:30 am to 5:15 pm
Gulf Coast Visitor Center is open daily – Nov to Apr 7:30 am to 5:00 pm and – May to Nov 8:30 am to 5:00 pm
Weather of Everglades National Park
The Everglades is mild and pleasant from December through April, though rare cold fronts may create near freezing conditions. Summers are hot and humid, with temperatures around 90 F / 32C and humidity over 90%. Afternoon thunderstorms are common and mosquitoes are abundant.
Tag : everglades national park , florida everglades , everglades park , everglades tour , miami everglades