Shenandoah National Park Camping Guide
Shenandoah National Park Camping Guide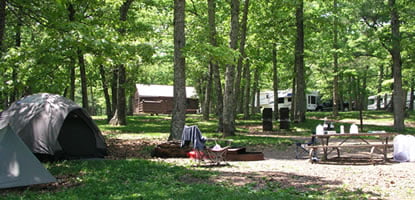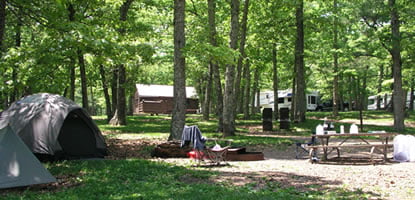 General Information
There are five campgrounds in Shenandoah National Park. They all have roomy sites with picnic table and grill. All are near a section of the Appalachian Trail. All have some accessible sites. All except Mathews Arm have showers, laundry, and a campstore. No campground has hookups for water, electricity, or sewage, but Mathews Arm, Big Meadows, and Loft Mountain have dump stations. All are accessed from Skyline Drive.
Big Meadows at Milepost 51 (first-come, first-served until May 14, then reservations are needed. Dundo Group Campground at Mile 83.7 (reservation only for organized groups through 1-800-365-2267). Lewis Mountain at Mile 57.6 (first-come, first-serve). Loft Mountain at Mile 79.5 (first-come, first-serve). And Matthews Arm at Mile 22.2 (first-come, first-serve).
There are also several campstores: Big Meadows at Milepost 51, Elkwallow at Mile 24.1, Lewis Mountain at Mile 57.6, and Loft Mountain at Mile 79.5.
Wood fires are only permitted in fireplaces in developed campgrounds and established picnic areas.
Fires are prohibited in backcountry.
Campers must not dig into or level ground.
All firearms, including air pistols, rifles, bows, slingshots, crossbows, fireworks and firecrackers are prohibited.
All motor vehicles and bicycles must remain on paved areas.
Pets are permitted but must be leashed at all times. They are allowed in campgrounds, but not in: lodging units, public buildings, conducted walks and hikes and where there is a sign that is marked with a "No Pets" sign. Owners are responsible for cleaning up after their pets.
Anglers between the ages of 16 and 65 must have a Virginia fishing license.
Campstores
Groceries, wood, ice, and camping supplies are available at the following locations:
Elkwallow Wayside (mile 24.1)
Big Meadows Wayside (mile 51.2)
Lewis Mountain Campstore (mile 57.5)
Loft Mountain Campstore (mile 79.5)
Food Service
Dates and hours of service can vary. Please see the park's visitor guide, Shenandoah Overlook.
Elkwallow Wayside (mile 24.1) – Offers a variety of breakfast selections and sandwiches and grilled items for lunch and dinner, with seating outside on the patio or at picnic tables.
Panorama Restaurant (mile 31.5) – Dining room with table service and carryout. The varied menu includes soup, salads, sandwiches, and pizza. Panorama is open for breakfast and lunch.
Skyland (mile 41.7 and 42.5) – Dining room with table service. Menu includes appetizers, salads, entrees and deserts.
Big Meadows Wayside (mile 51.2) – The Wayside houses a full-service dining room with carryout service and offers a varied menu of regional favorites and contemporary food.
Big Meadows Lodge (follow signs from Skyline Drive at mile 51.2) – Dining room in lovely rustic setting. Menu includes appetizers, salads, entrees, and deserts.
Loft Mountain Wayside (mile 79.5) – The Wayside has a dining room with counter service, with seating inside and outside on picnic tables. The menu includes a variety of breakfast selections, sandwiches, and grilled items.
Gasoline
In season, gasoline is available at:
Elkwallow Wayside (mile 24.1)
Big Meadows Wayside (mile 51)
Loft Mountain Wayside (mile 79.5)
Backcountry Camping

Most of Shenandoah National Park, including its wilderness, is open to backcountry camping. Special regulations for backcountry camping are intended to keep campers and the park in the best possible condition. A free permit is required for backcountry camping. Permits are available by mail from Park Headquarters.
Write:
Superintendent, Attn: Backcountry Camping Permit
US Highway 211 East
Luray, VA, 22835
Or call: 540-999-3500, Monday through Friday, 8:00 am – 4:30 pm EST.
Permits are also available in the park at visitor centers, entrance stations, and headquarters. At the park, permits will be issued only between sunrise and one hour before sunset.
Appalachian Trail hikers may self-register for permits on the AT near Rockfish Gap (south) and Chester Gap (north).
NOTE: Beginning in June 2001, permits will be available only between the hours of sunrise and one hour before sunset.
1. Upon selecting an area to camp, look for and try to camp on pre-existing campsites out of sight of trails and roads. Please don't create new campsites.
Pre-existing Campsites. Campsites have been created and established by prior visitor use and are not posted or signed. You must camp at least 20 yards from a park trail or an unpaved fire road. Dispersed Camping. If you cannot locate a pre-existing campsite, you may camp on a previously undisturbed area. Please use "pristine site camping" Leave No Trace practices to minimize the impacts of your campsite. Limit your stay to one night and camp well out of sight of trails and roads and other camping groups. Otherwise, "Pre-existing Campsite" regulations apply. Designated Campsites. Campsites are park-constructed and posted to concentrate backcountry camping at specific high-use sites. Presently, designated campsites are provided only at Appalachian Trail huts to accommodate overflow camping.
2. Backcountry campfires are not permitted (except at pre-constructed fireplaces at backcountry huts and day-use shelters). Use a backpacking stove.
3. Maximum group size is limited to 10 people. Groups larger than 10 people must divide into smaller groups and obtain a separate backcountry camping permit for each group. The separated groups must comply with "camping party" campsite requirements described in this bulletin.
4. Food must be stored in one (or more) of the following ways so that wildlife cannot have access to it:
Hang food in a tree at least 10 feet above the ground and 4 feet out from a tree trunk.
Hang food at a food storage pole provided at backcountry huts.
Store food within a park-approved bear-resistant food storage canister. 5. Areas closed to all camping: For distance regulations measured in "yards", figure that one yard is one of your long strides. For example, to camp at least 10 yards from a stream, take 10 long strides from the streambank and then several more to be sure you are complying with the regulation.No Camping may occur:

Within 10 yards of a stream or other natural water source.
Within 50 yards of standing building ruins including stone foundations, chimneys, and log walls.
The parkland has a rich cultural history. Camping in the area of former homesites impacts the preservation of those resources.
Within 50 yards of another camping party or "no camping" post or sign.
Within mile of a paved road, park boundary, or park facilities such as a campground, picnic area, visitor center, lodge, wayside or restaurant.
Within 100 yards from a hut, cabin, or day-use shelter. You may camp in a hut or cabin as described in this bulletin. Camping may occur in park-constructed designated campsites at Appalachian Trail huts.

In the following areas to preserve special resource conditions and values: They can be identified on maps and are identified by signs on trails accessing the areas.

Limberlost Trail area (bounded by the Skyline Drive, the Whiteoak Canyon fire road, and the Skyland-Big Meadows horse trail)
Hawksbill Mountain summit (area over 3,600 feet elevation)
Whiteoak Canyon (between the Skyland-Big Meadows horse trail and the Cedar Run Link trail)
Old Rag Mountain summit (area over 2,800 feet elevation)
Big Meadows (Big Meadow clearing area within view of Skyline Drive)
Rapidan Camp (no camping within mile of buildings)

6. Camping is permitted in specific backcountry facilities. The Potomac Appalachian Trail Club (PATC) maintains a system of backcountry huts and cabins in Shenandoah National Park. Huts are three-sided structures located along the Appalachian Trail and operated by PATC for use by long-term hikers. Backcountry camping permits are required for camping in huts, and all park backcountry camping regulations apply. Permits are not required for cabins, which are reserved in advance from PATC.7. Camping may not exceed 2 nights in one campsite location or fourteen (14) consecutive nights in the backcountry.

8. Properly dispose of human waste. Defecation within 20 yards of streams, trails, or roads is prohibited. If designated facilities are provided, use them. Solid human waste must be buried in a hole at least three inches deep.

9. Carry all trash out of the backcountry and properly dispose of it. "Pack it in; pack it out." Enhance the backcountry experience for all visitors by keeping it clean. Carelessly discarded food scraps and trash may be harmful to wildlife. Leave glass containers at home.

10. Pets must be leashed at all times and are not permitted on some trails.
The Six Principles of Leave No Trace
1. Plan Ahead and Prepare
Carefully designing your trip to match your expectations and outdoor skill level is the first step in being prepared. Adequate trip planning and preparation help to accomplish trip goals safely while minimizing impacts on the environment and on other users. For instance, if you are travelling by a recreational vehicle, be prepared with extra tyres. Also, keep the contact number of a top rated rv transport company handy, so that you can haul or transport the vehicle in case of emergency. Refrain from planning a trip at the last minute as it would only add to your hassles.
Part of the planning process is also ensuring that you have all the supplies necessary for survival when you're camping with your RV in the woods. In the interest of sustainability, RV owners are encouraged to use eco-friendly sources to power their camps. Instead of the traditional diesel generators, owners would be better prepared with a solar installation similar to the one provided by Avalon RV. This not only ensures a virtually unlimited supply of energy but is better for the national park's environment.
Also, it would be good to know the area and what to expect, including regulations and special concerns of the area. before visiting the place with friends and family.
Travel in small groups, during seasons, or days of a week when use levels are low.
Bears may be present; balance safety concerns in bear country with ecological and social impact concerns. Also one should remember to follow the proper protocols in case of a bear attack or an accident. It is wise to read up on basic safety procedures such as how to administer first aid, how people make many common mistakes when applying a tourniquet and what you could do to avoid them, how to proceed in case a bear sees you, etc.
Select appropriate equipment to help you Leave No Trace.
Repackage food into reusable containers, creating less trash to pack out.
2. Camp and Travel on Durable Surfaces
Whenever you travel and camp, confine your use to surfaces that are resistant to impact.
In popular areas, concentrate use. In remote areas, spread use.
Hike on existing trails to minimize disturbance to wildlife, soil and vegetation.
Choose an established campsite, one with a slight slope so rain water can drain.
Store food so that it is unavailable and uninviting to bears and small animals.
Before departing, make sure your camp is as clean or cleaner than when you arrived.
3.Pack It In, Pack It Out
Trash and garbage have no place in the backcountry. Consider the words "Leave No Trace" a challenge to take out everything that you brought into the backcountry. Pack out all of your liter.
Repackage food into reusable containers and remove any excess packaging.
Dispose of trash and garbage properly.
Store food and odorous items in bear-resistant food containers or hang items 10 feet above the ground.
4.Properly Dispose of What You Can't Pack Out
As visitors to the backcountry, we create certain kinds of waste which cannot be packed out. These include human waste, waste water from cooking and washing.
Dispose of human waste responsibility, utilize pit toilets or dig a cat hole at least six inches below soil surface 200 feet from the water.
Use toilet paper sparingly, and pack it out in doubled plastic bags to confine odor.
Minimize food and soap residues in wastewater. So, throw food only in dustbins and use eco soap that leaves behind almost no amount of residue. Also, consider using boiling water.
Avoid contaminating water sources when washing, and maintain 100-200 feet from a water source.
5. Leave What You Find
The Wilderness Act states that wilderness "… is recognized as an area… where man himself is a visitor who does not remain… with the imprint of man's work substantially unnoticeable…"
People come to the wildlands to enjoy them in their natural state. Allow others a sense of discovery by leaving rocks, plants, archaeological artifacts antlers, and other objects as you find them.
Minimize site alteration when camping, do not build structures.
Avoid damaging live trees and plants.
Avoid disturbing wildlife.
Leave natural objects and cultural artifacts for others to enjoy.
It is illegal to remove any cultural objects from Shenandoah National Park cultural artifacts are protected by the Archaeological Resources Protection Act. All these "pieces of the past" contribute to our understanding of human and natural history, including the effects of disease, climate changes, and shifting animal populations on the land and her people. Removing these artifacts takes them out of context and removes a chapter from an important story. If you discover an artifact, enjoy it where it is. Leave it as you found it.
6. Minimize Use and Impact from Fires
The use of campfires in the backcountry, once a necessity, is now steeped in history and tradition. Stoves are now essential equipment for minimum-impact camping trips because they are fast and eliminate firewood availability as a concern in campsite selection.
These principles and practices depend more on attitude and awareness than on rules and regulations; they must be based on a respect for and appreciation of wild places and their inhabitants.