Welcome to Denali National Park
Welcome to the Denali National Park Information Guide.
Here you will find all you need to know about the natural history of the park.
Learn about the geology, trees, mammals, birds, or other plants and wildlife of the area.
Denali National Park is located in southcentral Alaska. Denali Park's headquarters is located along Alaska Route 3, the George Parks Highway, approximately 240 miles north of Anchorage, Alaska and 125 miles south of Fairbanks, Alaska and 12 miles south of Healy, Alaska.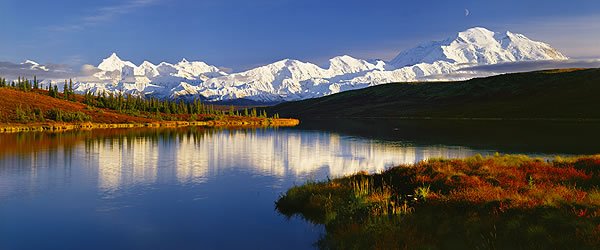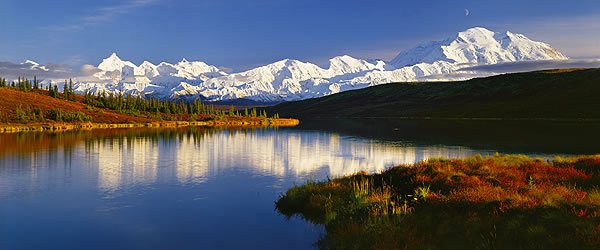 Getting Here
The closest major airports are Fairbanks at 120 miles north of the park and Anchorage at 240 miles south of the park.
Local airlines fly into Talkeetna, Alaska.
From the North
1. Take Stateroad 3 South to the park (the park is about 120 miles south of Fairbanks).
From the East
1. Take Stateroad 2 West (northwest) to Stateroad 1 South to Stateroad 3 North to the park.
2. Take Stateroad 2 West to Fairbanks and then take Stateroad 3 South to the park.
From the South
1. Take Stateroad 3 North to the park (the park is about 240 miles north of Anchorage).
Travel Information
Denali Park's mountaineering headquarters is located in Talkeetna, AK, approximately 100 miles north of Anchorage, AK.
Transportation
To the Park
Denali is accessible by car or via the Alaska Railroad from either Anchorage or Fairbanks. In summer a variety of private bus and van services and the railroad operate daily from Anchorage and Fairbanks.
Alaska Railroad Information
You can travel to Denali by rail from Anchorage or Fairbanks. From Anchorage, call: 265-2683; from the US, call: 1-800-544-0552; outside the US, call: 1-907-265-2683.
In the Park
The Denali Park Road is accessible by private vehicle for 14.8 miles to the Savage River bridge. To travel to destinations farther into the park, including Eielson Visitor Center, shuttle bus services are available. Bicycles are permitted along the Park Road.
Establishment the Denali National Park
The park was originally established to protect its large mammals, not because of majestic Mount McKinley. Charles Sheldon conceived the plan to conserve the region as a national park. Naturalist, hunter, and conservationist, Sheldon first traveled here in 1906 and again in 1907 with a packer and guide named Harry Karstens. (Karstens later made the first ascent of Mt. McKinley's south peak and would serve as the park's first superintendent.) Sheldon devoted much of his 1907 travels to studying boundaries for the proposed national park that would include territories suitable for a game refuge. When Sheldon returned to the East in 1908, the Game Committee of the Boone and Crockett Club, of which he was chairman, launched the campaign to establish a national park. Largely due to these efforts, Mount McKinley National Park was established in 1917. Its population of Dall sheep and other wildlife were now legislatively protected. However, Mount McKinley itself was not wholly included within the boundaries.
Size of Denali National Park
Denali National Park and Preserve is 6 million acres large. It is larger than the State of Massachusetts. It exemplifies interior Alaska's character as one of the world's last great frontiers for wilderness adventure.
Denali National Park and Preserve is managed as three distinct units, Denali Wilderness, Denali National Park additions, and Denali National Preserve.
Accessibility
Shuttle buses are wheelchair accessible – please advise when making reservation. Tour buses are wheelchair accessible – please advise when making reservation. The Visitor Center, most campgrounds, and Park Headquarters are accessible.
Backpacking Camping / Hiking
Denali National Park is an area that predominately without trails. Hikers must travel crosscountry. Be prepared for uneven terrain and possibly streams and brush. Many rewards await those who take the challenge of hiking without a trail in the backcountry of Denali: spectacular vistas, possible encounters with wildlife, and the experience of traveling the land much as the first explorers did. Be sure to carry the proper gear and be familiar with potential hazards and bear safety precautions. See the Hiking Page and the Camping Page for more details.
Biking
Bicycles are restricted to designated roadways. They may not be used on trails, the roadside path, or in the backcountry. Bicyclists must comply with all traffic and wildlife regulations. Ride single file; remember buses have priority on the gravel portions of the road. Vehicles will slow down so as to not "dust" you; however, you should pull over and slow down/stop when buses are passing or approaching you due narrow roads.
During spring and fall when road closures are in effect, bicyclists are permitted to ride beyond closed gates.
Bicycle Camping
Register for a campsite in advance or at the Visitor center. If you prefer to backpack from a campground, leave your bike locked there (bike racks are being installed with "fee demo" money). Make sure you have a backcountry permit. Store any food or gear not going with you in the food lockers.
Tour Bus
Tour buses feature a narrated bus tour and wildlife viewing. Visitors cannot get on and off to switch buses. Snack or box lunch provided.
Advanced reservations are available, call: 800-276-7234. From Anchorage call locally: 276-7234. From outside the U.S. dial: 907-276-7234. Reservations can be made until two days in advance of travel. Within two days of departure call: 907-683-2215 for advance purchase.
Tour buses are wheelchair accessible – please advise when making reservation.
Camping
Seven National Park Service Campgrounds are available in the park. Three campgrounds, Riley Creek, Savage River, and Teklanika River, are open to private vehicles. Morino, near the railroad depot, is for those traveling without vehicles. The other three campgrounds, Sanctuary River, Igloo Creek, and Wonder Lake, are shuttle bus accessible only. Fees are charged for all campgrounds and advanced reservations are available for most. Riley Creek is the only campground open year round. For reservation information call: 800-622-7275 from anywhere in the United States or: 907-272-7275 locally, in Anchorage, or outside the United States.
Reservations may be mailed or faxed to Denali Park Resorts. Faxes must be received two days before the date of travel. Reservations that are mailed in must be received 30 days prior to departure. See the Camping Page for details.
Entrance Fees
Individual Entry (bike, foot) $ 10.00 (Seven Day Pass)
Family Entry $ 20.00 (Seven Day Pass)
Annual Pass $ 20.00 (Season)
Gold Access Pass (Blind or permanently disabled individuals) Free (Lifetime – good in all natl parks)
Golden Age Pass (1 time fee – for those 62+ years young) $ 10.00 (Lifetime – good in all natl parks)
National Park Pass (good 1 year from date of purchase) $ 50.00 (good in all natl parks)
Fishing
Fishing is not great in Denali National Park. The fish cannot tolerate the conditions of most of the rivers inside of the park because of too much glacial silt. there are a few clear, mountain streams where arctic grayling may be caught. Lake trout (Mackinaw) may be found in Wonder Lake. No license is required in the original national park lands.
Food and Supplies
A small convenience store, The McKinley Mercantile, is located near the entrance of Denali. Several other restaurants and convenience stores are located within a few miles of the park entrance. Most food services are available only in summer. Restaurants, convenience stores, and gas stations are open year round in Healy, AK – 12 miles north of the park entrance and Cantwell, 29 miles south.
Hiking
To help choose a location to hike read the following information about the different habitats found within the park. You may want to base your decision on where to hike on what type of terrain you want to hike in. The most common types of terrain in the park are taiga, tundra and gravel bar. See the Hiking Page for details.
Denali National Park Weather
Summers are generally cool and damp with average high temperatures in the mid 60s. Layers of clothing, including good rain gear and hiking boots are recommended for summer.
Winters are extremely cold with temperatures falling to -40F and below.